One theme among parents worldwide is their desire to provide the best for their children in every capacity of life. When it comes to finding a quality learning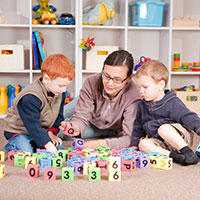 center for preschool students, you'll be wanting to make the best possible choice for your young learner. Parents who are seeking a preschool learning center in the Dyer area will have a few choices to select from. As a top-notch toddler day care, the Wonder Years Learning Center is here to provide optimal services to our community. Today, we'll cover a few key factors to consider when it comes to finding the ideal place for your toddler to learn and play. While our quality staff is here to provide every assurance that your toddler will thrive in our proven program, we understand that you as the parent will need to make the ultimate decision. Choosing us can be a great move for you and your child, but it never hurts to do to research first!
Qualifications. There is a surprisingly high number of non-accredited daycare centers in our society, causing quite the concern for parents who are worried about placing their child into the wrong hands. Our Wonder Years Learning Center requires all staff to be state certified and licensed, along with being first aid and CPR-certified as well. We take every step possible to ensure that your child will receive only the best care day-in and day-out.
Cleanliness. Preschools are hubs for germs and bacteria, making cleanliness a top priority. From spotless facilities to proper hand-washing instructions, every part of our daycare center focuses on the best ways to prevent illness. Our childcare providers are fully ascribed to the best sanitary practices and lead by example to promote healthy practices for all of our young stars.
Safety.
One of the hardest parts of dropping your little one off for school or day care comes from the fear of being unable to protect them. Our Dyer childcare center features the best in safety practices, from a highly secure entry system to our comprehensive surveillance cameras.
Curriculum. If your child is going to be in someone else's care throughout the week, they might as well be engaged and productive in the learning process, right? Our Top Rated Local® preschool learning center revolves around a proven curriculum that engages your child in a fun and educational manner. Preschoolers are an entirely different group of young students, and our classes reflect that. From musical dance to reading development, a full set of educational competencies will be provided to your young student.
Quality. In the end, what's most important is that you have provided the best childcare possible for your biggest fan. Our preschool curriculum focuses on loving and enriching education to give young learners the building blocks to lead a happy, successful life. Every aspect of your kid's childhood will be covered, from learning and playing to exploring new concepts. The Wonder Years Learning Center has been voted the best childcare center in Northwest Indiana for the past five years, and we're aiming to keep the streak alive!
Finding the best preschool learning center in Dyer may sound like a chore, but putting in research and making your own decision is the best course of action. You can contact us today to learn more about our childcare center or to enroll your little one!